Collect & Go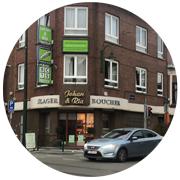 You don't get time to come in one of our shops to choose between all our home-made products?
We have the solution for you!! Order on our web-shop, and your products will be waiting you in our refrigerated dispensers outside our shop and outside opening hours.
Log on the web-shop.
Choose the products and how much you want from each.
Check the option "take away" and tell us at what time you'll come [outside opening hours].
You pay online and get a confirmation mail from our workshop.
You'll get a unique pin number you'll need to open your box.
Your orders will wait you in a refrigerated box outside the shop.
Orders must be made on:
Monday – Friday: 8:00 – 18:00
Saturday: 8:00 – 17:00
Taking your parcels away will be on: 0478783838
Monday – Friday: 10h-23h
Saturday: 8:00-20:00
Sunday 10:00 – 18:00
For instance:
- Saturday on 4 :00pm you just remember some friends are coming to lunch with you Sunday and you don't have time to come to our shop. Don't worry and no panic! Order on the web-shop before 5:00pm and specify you'll take your parcels away on Sunday. Our refrigerated boxes outside the shop will keep all your products cool until your coming!
- Wednesday afternoon, kids tell you they'll go the day after to sports day. No lucky for you, you don't have anything to put on them bread! No worries, order before 6:00pm and come after your meeting on 8:00pm to grab the products you ordered in the outside boxes. A healthy meal for a fully day!
This option is NOT available for our shop ANDRIES in Uccle.